Wholesale Electric ABS portable gravity salt and pepper mill with LED light automatic pepper Grinder
author: Nove
2023-08-04
There's nothing like freshly ground pepper mill to top off your meal, but is there really such a big difference between pre-ground and freshly ground peppercorns? 
Yes, the pepper mill turns out. Once spices are ground, they start to oxidize, and their aromatics evaporate quickly, so you'll get the most flavor and aroma out of them when they're ground right before you prepare or consume your meal. But not all pepper mills are made the same—the difference between a cheaply made pepper mill and a higher-quality one can mean inconsistent grinds, clogged or loose grinding mechanisms, and pepper spilled everywhere. You'll also want to look for varying degrees of grind when choosing the right tool.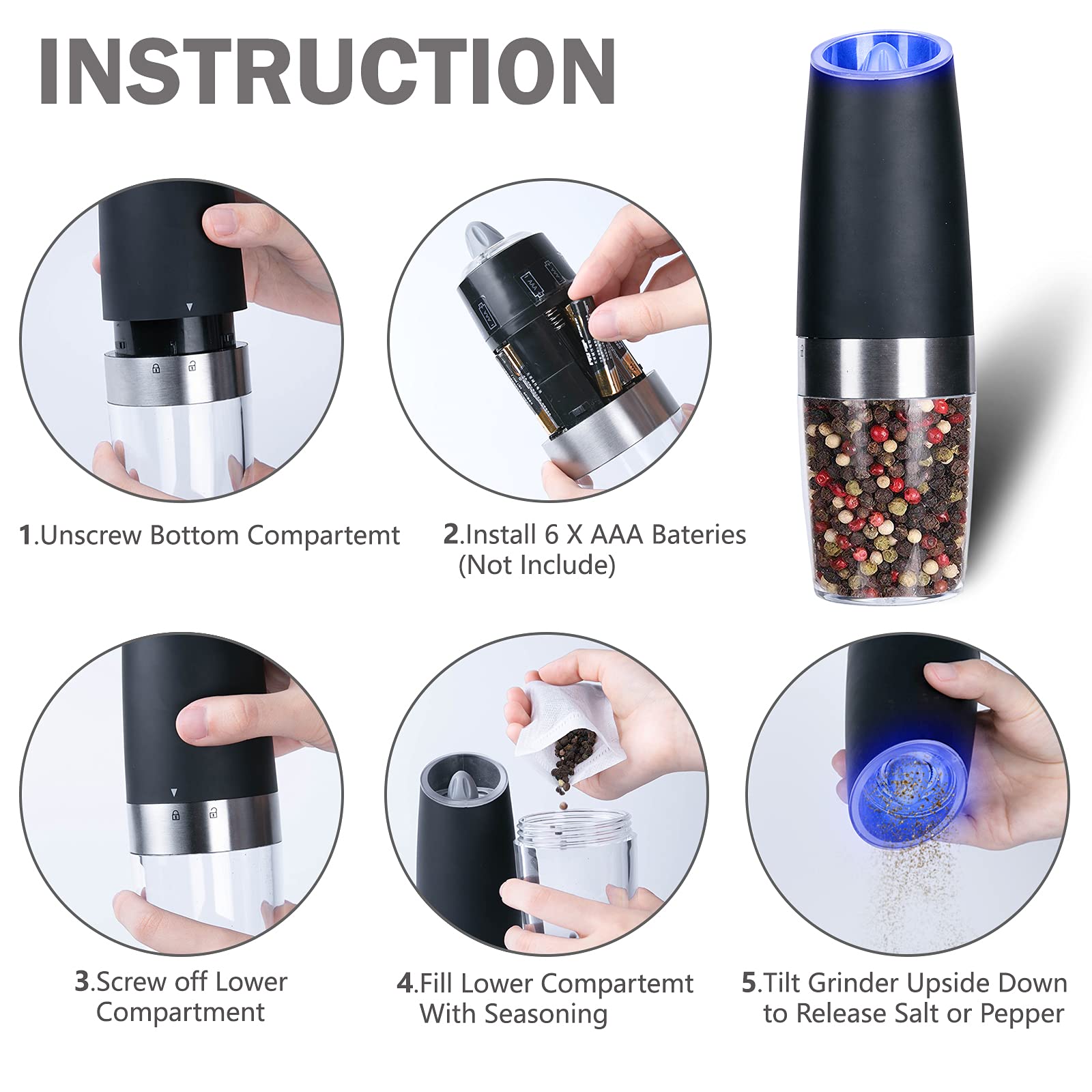 More details:
【Automatic Operation】Our Electric pepper mill and Salt Grinder with a Gravity sensor switch, you even needn't to press a button, Simply flipped the grinder and you will have fresh ground spices, Convenient and funny. Battery powered, each grinder requires 6 AAA batteries (batteries not included).
【Adjustable Grinder】 Many grinding levels for your choice allow you to grind your spices from coarse to fine. Electric pepper mill and Salt Grinder use a high-quality ceramic rotor. You can choose the coarseness of your spice, salt, or pepper by turning the adjustment knob at the head of the grinder.
【Wide Applicability】The pepper mill electric grinder is suitable for pepper, salt, and other solid grain seasonings. Battery-powered, convenient, and fast, you can use it anytime and anywhere. This grinder is a good helper for kitchens, restaurants, parties, and outdoor picnics.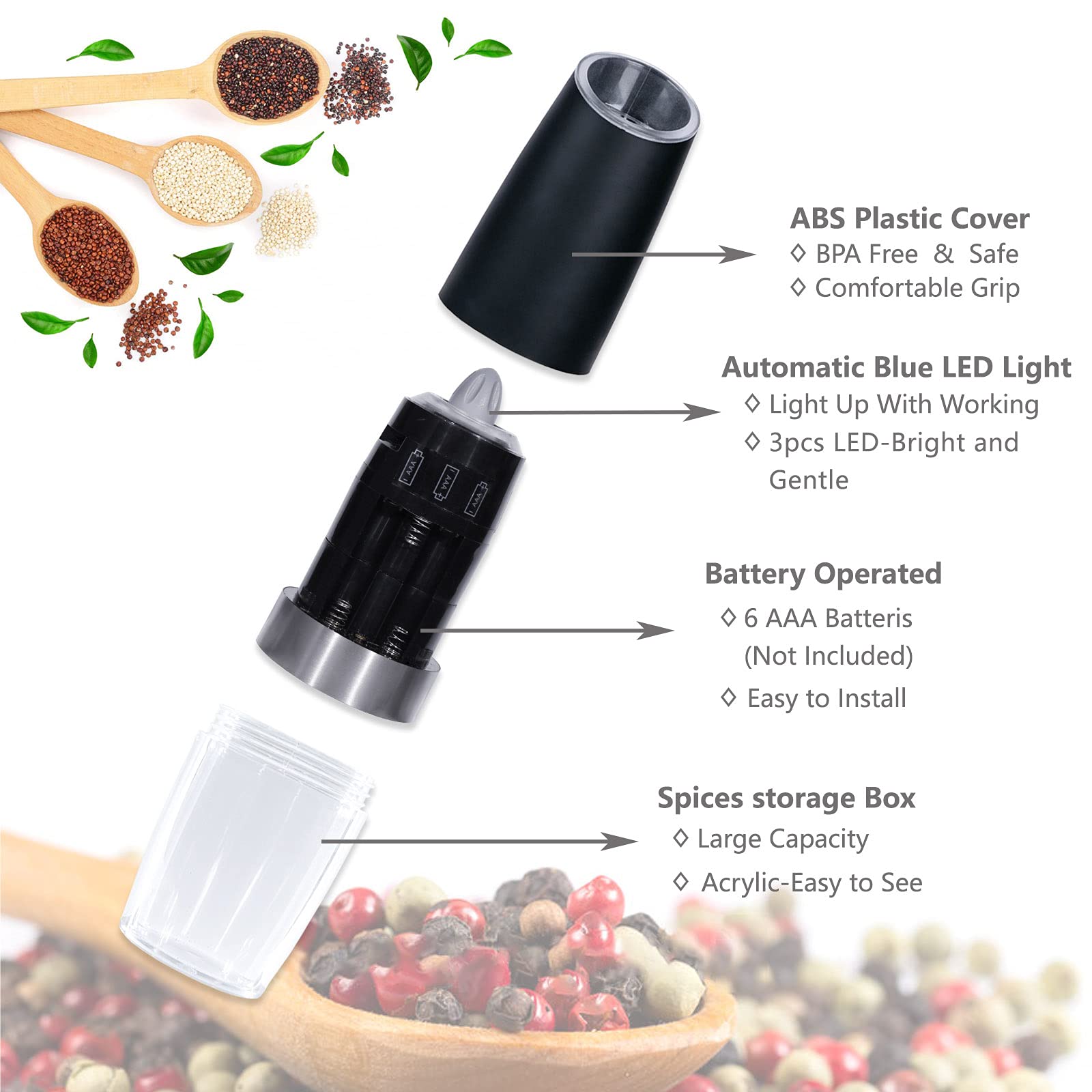 【Unique Design】Transparent acrylic material(BPA-FREE) at the bottom allows you to see the remaining spices and is convenient to distinguish the spices in the pepper mill. With the blue LED light, blue light is not only bright but also gentle, you can easily see the amount of pepper, salt, and other grain you put in your food.
【200% Quality & Money Back】If you find that the pepper mill does not work after the product arrives, it is generally the case that the ceramic grinding core is stuck with granules. In this case, please turn the top button to adjust the coarseness to the coarsest state, so that the particles blocked inside the ceramic grinding core will fall out, and then it can be used normally.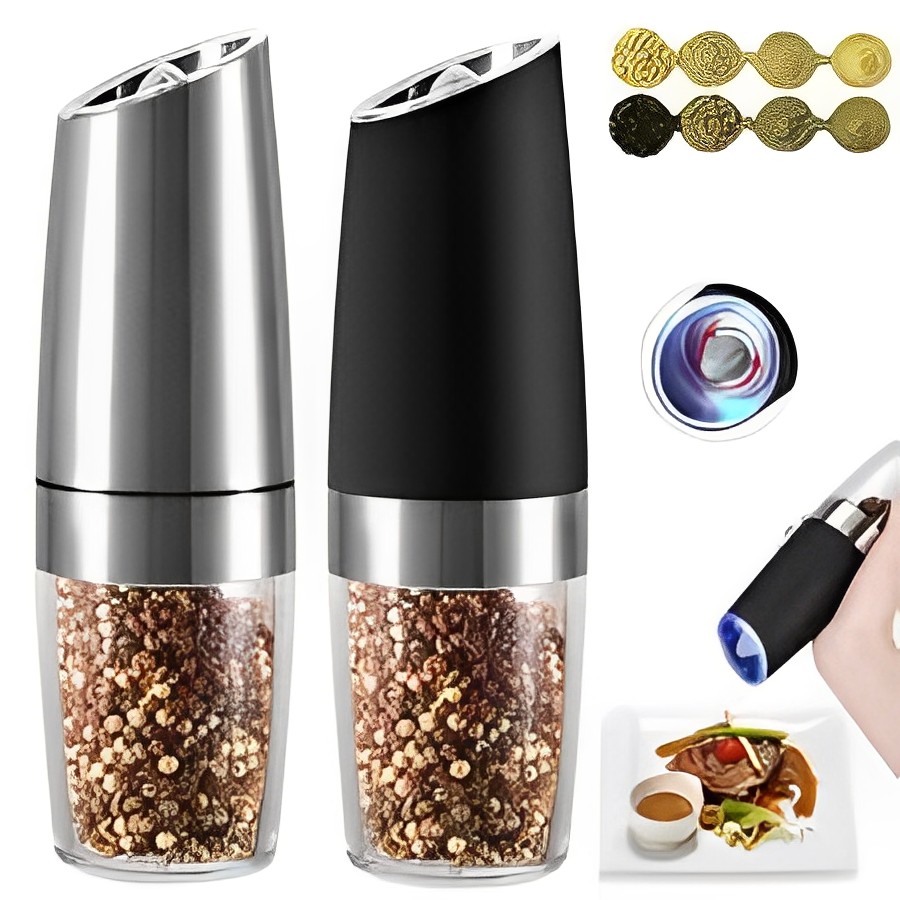 This simple pepper mill has a budget price, but it's packed with features that will likely make the pepper mill your kitchen favorite. For starters, the pepper mill holds more pepper than you can imagine, while the clear face on the filler door lets you see how much pepper is left. It's also simple to open the door and shake out a few peppercorns when you need them whole for a recipe.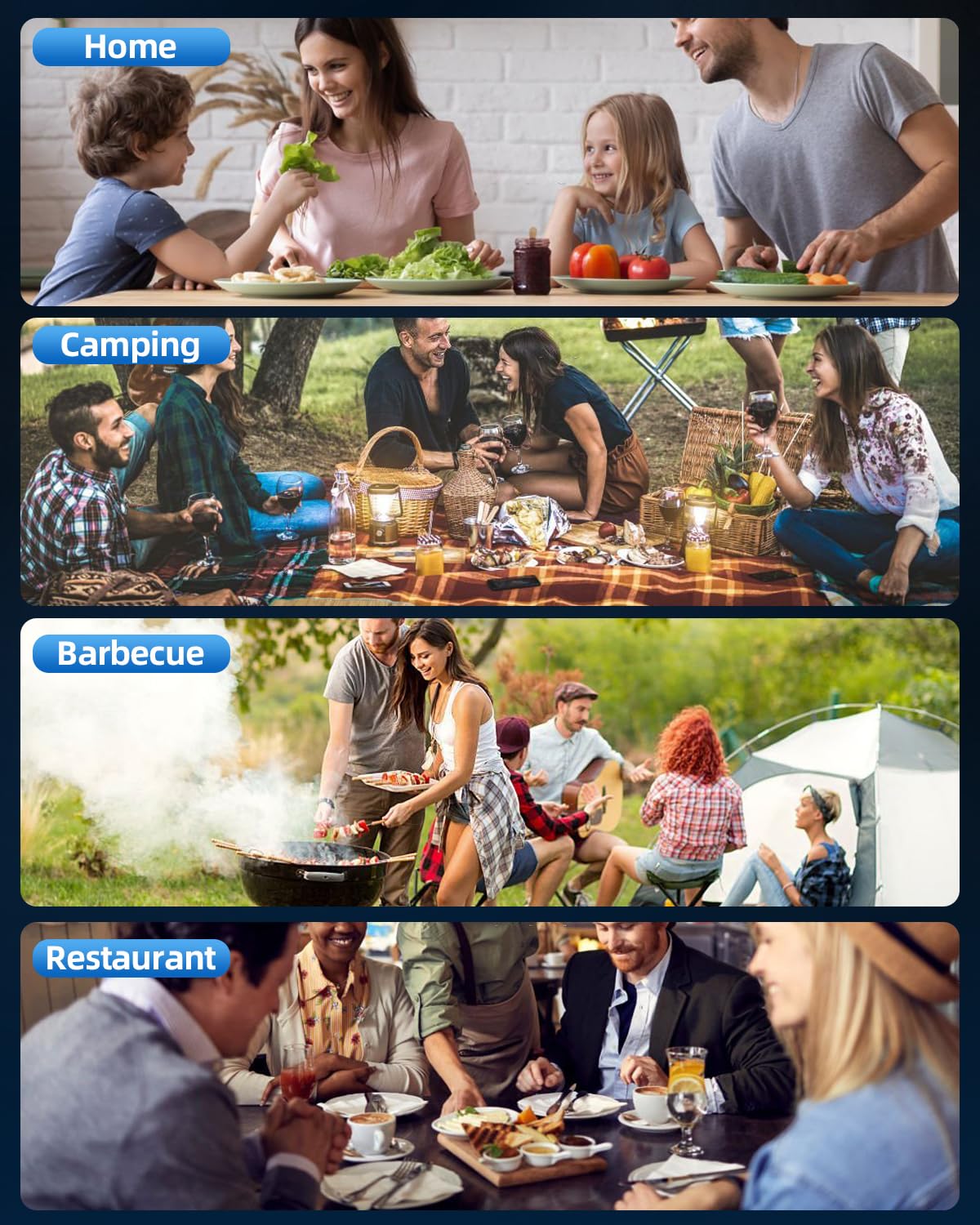 Because the pepper mill is small and convenient, can be placed in a bag at any time to carry, so multiple scenarios to use, cooking at home, picking up and loading with peppercorns can be ground to use, saving time, but also clean and tidy, will not get everywhere.

When you and your friends go out for a picnic, take pepper mill with you, you can also add more food flavor to your food, and the freshly ground ones are definitely more delicious than the pre-ground ones!
I believe the pepper mill is essential for family barbecues and adds a lot of fun to your barbecue!
With its exquisite appearance, the pepper mill is also very eye-catching in the restaurant and can attract more customers.
If you have any questions or comments please contact us.