Shipping smoothly
2022-11-18
We pursue quality and development
From establishment to development, the company has experienced 12 years of baptism in the kitchen electricity industry.
We have a professional logistics partner, whether express or large goods out of the port, there is special people contact.
After the goods are finished, check the goods, confirm the shipping date and booking space, and the whole route.
Our kitchen appliance product category is gradually improving, and we can get all the products that consumers need with one click.

The Internet makes a difference
Early foreign trade is a process in which exporters find manufacturers to purchase goods, and then exporters sell to foreign importers, because each link here has to obtain profits, and there is a gap in information, and the price is raised one by one, so the final price to the hands of consumers will become very high.
The rise of the Internet, so that the spread of information is very rapid, the flow is also very amazing, breaking the barriers between countries, so that the initial cross-border e-commerce in the middle of traditional foreign trade development, the impact of the new crown epidemic in 2020, but also let more European and American consumers purchasing power tilted online, further squeeze traditional foreign trade, relying on the Internet export foreign trade gradually become the mainstream model.

Riding the east wind of the shift of global consumer behavior from offline to online, China's current cross-border e-commerce is also growing rapidly.

Containers were significantly removed from shelves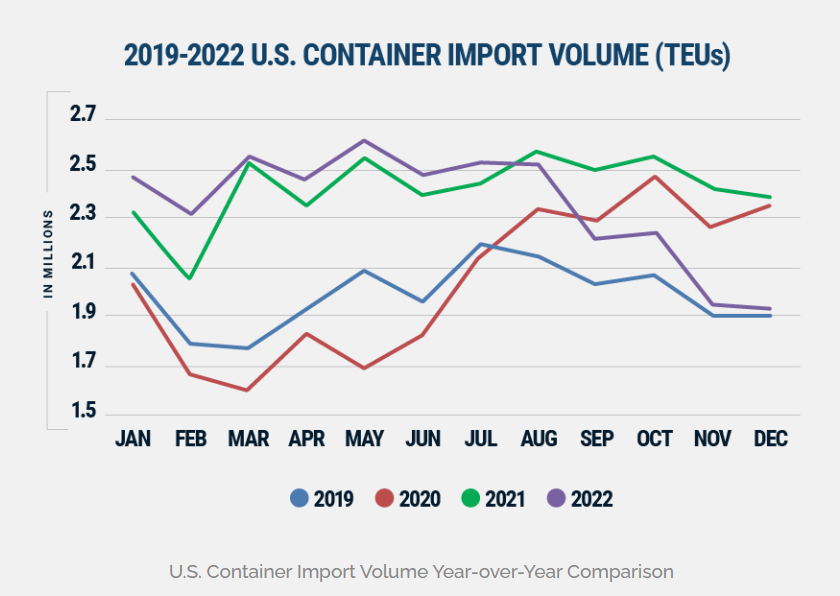 With the acceleration of people's pace of life, shopping consumption is often immediate and random, which requires cross-border e-commerce orders to be fragmented and lightweight, and more and more manufacturers are aware of the changes and begin to accept the export of a small number of goods to adapt to the current foreign trade form.

As inflation weighed on consumer demand, the global economy generally slowed and U.S. international trade declined. It was observed that US container cargo imports have been declining for several months, and in December 2022 they have fallen to near pre-pandemic levels. Among them, US container imports from China continued to show a downward trend, while South Korea and India experienced the largest declines.
U.S. container imports from China continued their downward trend in December 2022, with imports of 686,514 TEUs, down 0.5% from November and 31.9% from August highs. China accounts for 35.4% of total U.S. container imports, down 6.1% from its February 2022 high of 41.5%.
Social media input is a must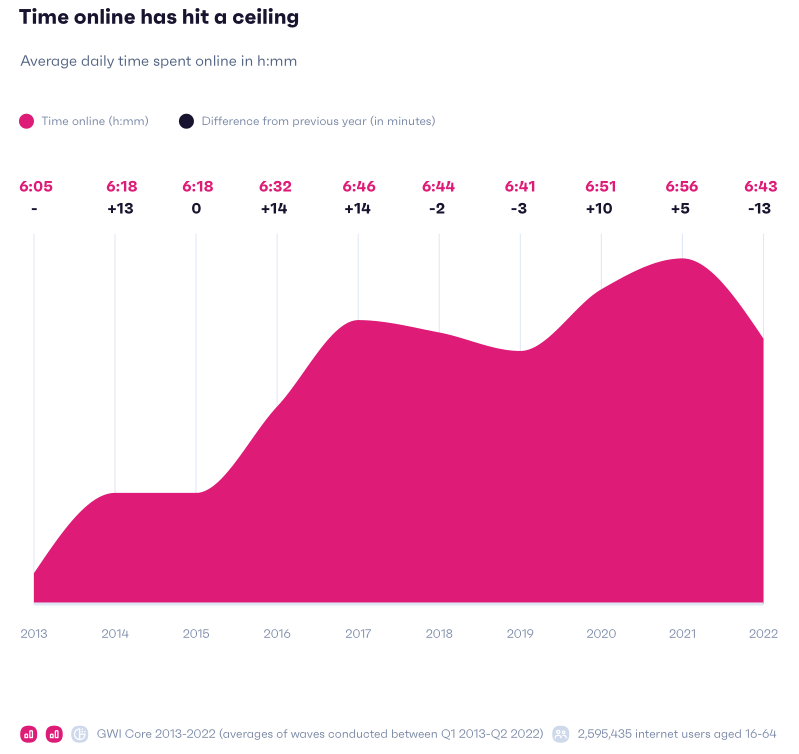 The average number of people online daily today is almost the same as it was before the pandemic, but the amount of time people spend is not increasing as it used to be. Since 2021, the average amount of time people spend online online in the Middle East and Africa and Latin America has dropped by 20 and 34 minutes, respectively – a trend that is particularly true among younger people. Obviously, after the epidemic gradually stabilizes, people's leisure time will gradually decrease, and the "excessive attention" devoted to the Internet during the epidemic will also be reset.